Art & Art History
Art Work: A National Conversation About Art, Labor, and Economics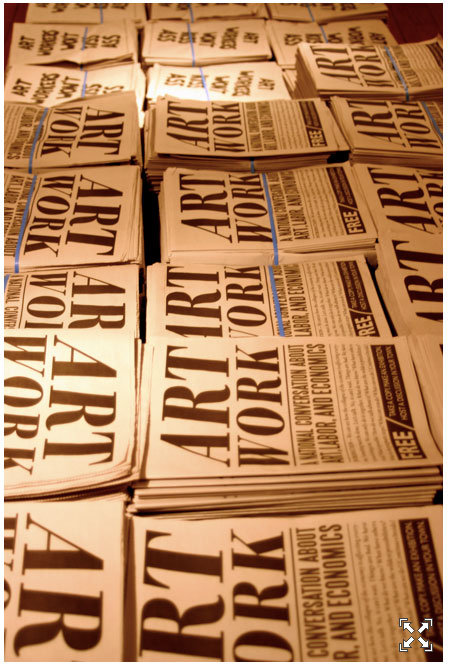 Tuesday, January 26, 2010–Saturday, March 06, 2010
Art Work: A National Conversation about Art, Labor, and Economics is an exhibition by Temporary Services of material relating to their newspaper and website Art Work (www.artandwork.us). Art Work consists of writings and images from artists, activists, writers, critics, and others on the topic of working within depressed economies and how that impacts the artistic process, compensation, and artistic property. The independently published newspaper is distributed throughout the United States and Puerto Rico.
The exhibition features a display of the newspaper, a distribution site for the Chicago area, related materials and multiple lectures, workshops, and events related to economic sustainability.
The 40 page newspaper features the writings, images, and work of Julia Bryan-Wilson, Holland Cotter, Tim Kerr, Nance Klehm, Harrell Fletcher, Futurefarmers, Robin Hewlett, Nicolas Lampert, Lize Mogel, Dan S. Wang, Gregory Sholette, Dylan A.T. Miner, Christina Ulke and Marc Herbst of the Journal of Aesthetics & Protest, OurGoods, Chris Burden, Scott Berzofsky, John Duda, InCUBATE, Linda Frye Burnham, ILSSA, Cooley Windsor, Brian Holmes, Nick Tobier, Lolita Hernandez, Stacy Malasky, Nate Mullen, Aaron Timlin, Harold Jeffries, W&N, Damon Rich, Teaching Artist Union, FEAST, 16 Beaver Group, W.A.G.E., Chris Kennedy, Nato Thompson, Carolina Caycedo, Guerrilla Art Action Group, Anthony Elms, Adam Trowbridge, Jessica Westbrook, and many other artists, art workers, curators, interns, volunteers, writers, and activists. The website also houses more writing, images, and ideas that did not make the print edition, and it provides a forum to share your thoughts and ideas and connect with other artists, teachers, students, arts administrators, curators, preparators, and interns.
Temporary Services is a collaborative artist group composed of Brett Bloom, Salem Collo-Julin and Marc Fischer. The group is based in Illinois and has existed, with several changes in membership and structure, since 1998. Temporary Services has produced exhibitions, events, projects, and publications worldwide in both institutions and public spaces. In 2008, Temporary Services initiated Half Letter Press, a publishing imprint and an experimental online store.
Art Work: A National Conversation About Art, Labor, and Economics was presented in conjunction with Studio Chicago. Several lectures were also held in conversation with the exhibitions, including an introduction and discussion by Temporary Services in which the artists examined the process and impetus behind Art Work, a lecture by Nicolas Lampert of the Justseeds Artists ' Cooperative entitled "Organize! What the Artists ' Union and the American Artists ' Congress Can Teach Us Today," and a lecture by Brian Holmes on "Decipher the Future."
Lampert provided an overview of the Artists ' Union and the American Artists ' Congress, two leading voices for radical artists during the 1930s. Both organizations responded to the Great Depression and the rise of fascism with collective action, purposefully aligning themselves with working class labor movements. 
Holmes ' presentation was based on the final chapter from his latest book, Escape the Overcode: Activist Art in the Control Society (2009). Holmes, a freelance art and cultural critic who lives in Paris and Chicago, and was the English editor of publications for Documenta X, took part in the counter-globalization movements while collaborating with activist-artists such as Ne Pas Plier, Bureau d'études, Makrolab, Hackitectura and most recently the 16 Beaver Group. He has contributed to many journals, magazines and web venues, including Nettime, Multitudes, Springerin and Open, and lectures in self-organized spaces, museums, and universities. He holds a PhD in Romance Languages and Literatures from the University of California at Berkeley and was awarded the Vilém Flusser Prize for Theory at Transmediale in Berlin in 2009. His essays have been gathered into three anthologies: Hieroglyphs of the Future: Art and Politics in a Networked Era (Zagreb: WHW, 2002); Unleashing the Collective Phantoms: Essays in Reverse Imagineering (New York: Autonomedia, 2007); and Escape The Overcode: Activist Art in the Control Society (Eindhoven and Zagreb: Vanabbemuseum/WHW, 2009).
In addition to these lectures, a two day local-maker and publisher fair was held in Art and Design Hall, featuring Antena, AREA Chicago, Bad at Sports, CAFF, Esteban Garcia, Golden Age, Green Lantern Press, Half Letter Press, Terrence Hannum, Harold Arts, Imperfect Articles, InCUBATE, Clifton Meador and guests, David Moré, No Coast, Onsmith Dog Stew & Monkey Nudd Wine, Pros Arts Studio, Proximity magazine, Radah & Team, Spudnik Press, Bert Stabler, threewalls, and WhiteWalls. The gallery also presented a drawing event with Harold Jeffries and screening of the documentary You're Gonna Miss Me. Jeffries, an artist working at the Little City Foundation art studios outside Chicago, a program for artists with developmental disabilities, has been making his own money for years. You 're Gonna Miss Me is a documentary about rock and roll pioneer Roky Erickson, whose band The 13th Floor Elevators coined the term "psychedelic rock" in the 1960s. This film tells the story of Erikson 's family and their struggle to care for Roky, who suffers from schizophrenia.
Art Work: A National Conversation About Art, Labor, and Economics is presented concurrently with The Free Store.
Related: 
EXHIBITION SUPPORT
Art Work is supported by the College of Architecture and the Arts, University of Illinois at Chicago, and a grant from the Illinois Arts Council, a state agency.
PRINT COLLATERAL
Art Work: A National Conversation About Art, Labor, and Economics.
Multiple file sizes are available on the Art Work website.
Postcard: Art Work, The Free Store
Poster: Art Work, The Free Store – Events, Opening Reception
EXHIBITION CHECKLIST
Temporary Services

Art Work: A National Conversation about Art, Labor, and Economics, 2010
newspaper, publications, and mixed media installation
MEDIA COVERAGE
Foumberg, Jason and Nate Lee. "Eye Exam: Making Art Work for You." newcity.com, Feb. 16, 2010.
ARTIST BIOGRAPHY
Temporary Services is artists Brett Bloom (born 1978), Salem Collo-Julin (born 1974), and Marc Fischer. The group, based in Chicago and Copenhagen has existed, with several changes in membership and structure, since 1998. Started as an experimental exhibition space in a working class neighborhood of Chicago, Temporary Services produces exhibitions, events, projects, and publications. The name, Temporary Services, directly reflects the group's desire to provide art as a service to others. It is a way for them to pay attention to the social context in which art is produced and received. Not immediately recognizable as an art space, their goal was to stave off the stereotypical role they may have played in the gentrification of their neighborhood. They believe a variety of people should decide how art is seen and interpreted, rather than continuing to strictly rely on those in power. Moving in and out of officially sanctioned spaces for art, Temporary Services keeps one foot in the underground and the other in the institution.