Art & Art History
Andrea Zittel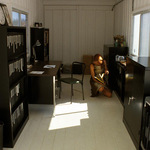 Monday, April 05, 2010
Location:
Museum of Contemporary Art, Chicago
220 East Chicago Avenue
Internationally-renowned artist Andrea Zittel (born 1965) speaks about her work and describes how her studio in the high desert of California serves both as a space for exploration and as a place for crafting and presenting objects, materials, spaces, and ideas. Zittel s sculptures and installations transform everything necessary for life such as eating, sleeping, bathing, and socializing into experiments in living.
Zittel has had recent solo exhibitions and installations at Andrea Rosen Gallery, New York; Gallery Side 2, Tokyo; the Boise Art Museum, Idaho; the Maryland Institute of Art, Baltimore; and the International Print Center, New York. A retrospective exhibition, Andrea Zittel: Critical Space, was exhibited at the following institutions: the Contemporary Arts Museum Houston (2005); the New Museum, New York (2006); the Albright-Knox Art Gallery, Buffalo (2006); the Los Angeles Museum of Contemporary Art (2007); and the Vancouver Art Gallery (2007). In 2006, she was appointed an assistant professor in the Roski School of Fine Arts at the University of Southern California.
Co-presented with the Museum of Contemporary Art, Chicago, as part of Studio Chicago, a year-long collaborative project that focuses on the artist's studio from October 2009 to October 2010. 
Image: Andrea Zittel in her studio at A-Z West. Courtesy the artist and Andrea Rosen Gallery, New York.