Art & Art History
A Spectre Is Haunting: 2013 UIC Art MFA Thesis Exhibition 3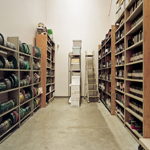 Tuesday, April 09, 2013–Saturday, April 13, 2013
Location:
Gallery 400
400 South Peoria Street, Chicago, IL 60607
Featuring: Liliana Angulo Cortés, Ian Curry, Daniel Shea, and Daniel Tucker
The third in a series of four UIC MFA Thesis Exhibitions in Studio Arts, Photography, Moving Image, and New Media Arts.
Archives, hidden and contested histories, speculative fictions, vault digging, and reconstructing experiences: all of these forms, sources, and gestures characterize the works in this exhibition. Engaging with expanded notions of documentary, Liliana Angulo Cortés, Ian Curry, Daniel Shea, and Daniel Tucker are in critical dialogue with the practices of journalism, performance, and history.
Liliana Angulo Cortés is an artist from Colombia. In her work she explores the body through issues of gender, language, history, and politics. Her interest in African-descent communities has led her to explore questions of representation, ethnicity, discourses on race, power relationships, cultural practices, and traditions of the African diaspora. She has developed her practice using a variety of media, including sculpture, photography, video, installation, sound, and performance.
Ian Curry is a filmmaker whose work celebrates the sensuality, magic, and history of the physical medium of 16 millimeter film. His work focuses on manipulating film through experimental processes and testing its limits by way of designed apparatuses for presentation. He often uses hand processing, optical printing, contact printing, and in-camera editing to reveal a passing moment 's brilliance or a presented moment 's faltering truth. Previously of Bridgewater, MA, and Boston, Curry has exhibited his works in gallery, screening, and performance contexts. He earned a BFA at the Massachusetts College of Art and Design in Boston.
Daniel Shea is an artist working primarily in the mediums of photography, installation, and sculpture. Shea is currently exploring mythology, fiction, and history set against a backdrop of post-industrial ruins and detritus. He recently published his first monograph Blisner, Ill. in conjunction with a long-term residency at Columbia College Chicago. He has exhibited at the DePaul Art Museum, Chicago; the Museo de Arte Acarigua-Araure, Venezuela; MDW Art Fair, Chicago; Andrew Rafacz Gallery, Chicago; the Moscow Museum of Modern Art; Asia Society, Beijing; and LVL3 Gallery, Chicago, among others. After graduation he will serve as an adjunct professor of photography at the Maryland Institute College of Art.
Daniel Tucker writes, makes art and documentaries about social/cultural movements and the people and places from which they emerge. For the last twelve years he has organized numerous large-scale projects in Chicago and beyond. This year he is completing the video Local Control and expanding two ongoing archiving projects Never The Same and Crisis Image Archives.