Art & Art History
a series of encounters: 2022 UIC MFA Thesis Show 1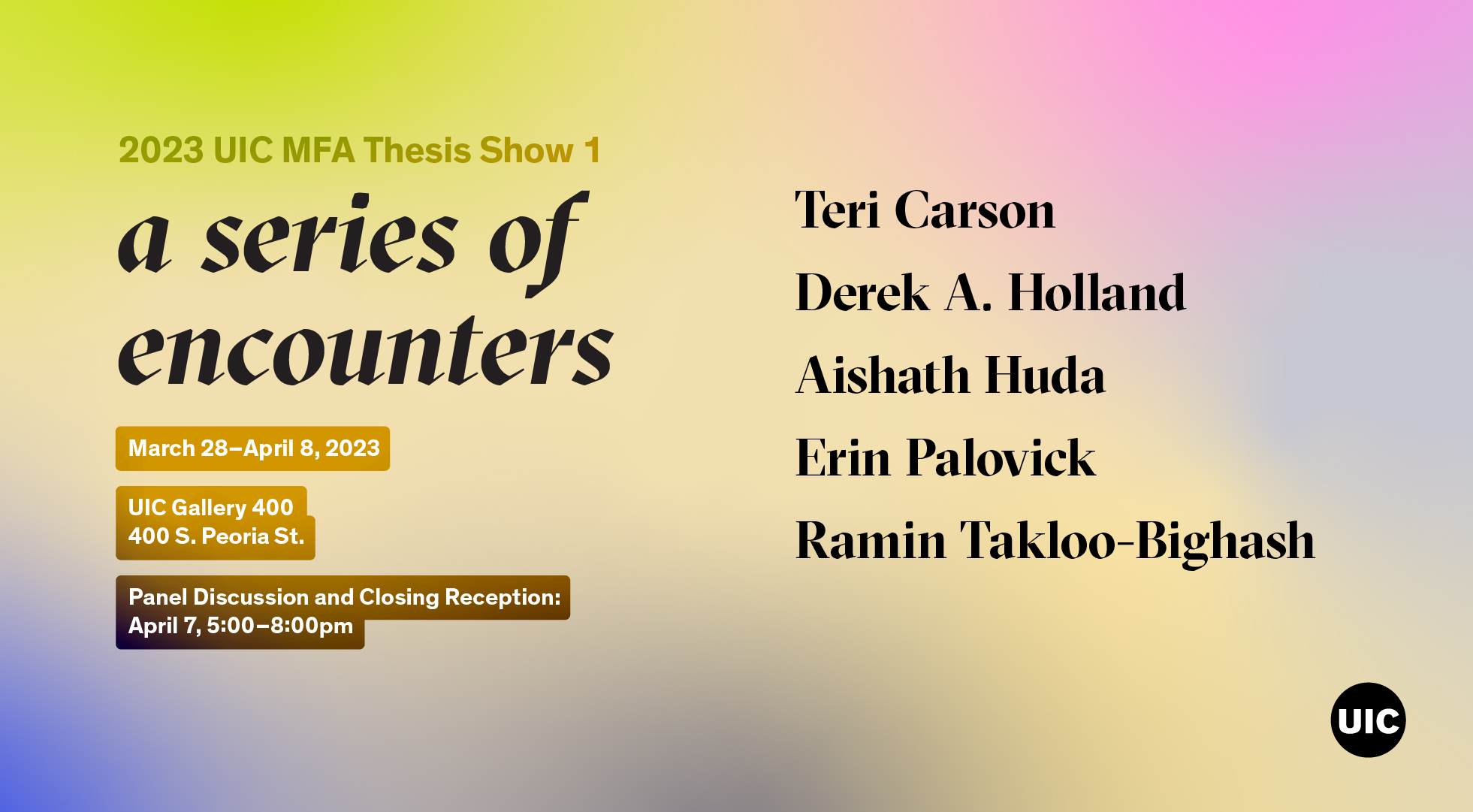 Tuesday, March 28, 2023–Saturday, April 08, 2023
Location:
Gallery 400
400 South Peoria Street, Chicago, IL 60607
Teri Carson
Derek A. Holland
Aishath Huda
Erin Palovick
Ramin Takloo-Bighash
Curated in the spirit of collaboration and investigation, a series of encounters and CTRL + histories are joint MFA thesis shows that emerged from a single question raised by MUSE's (Museum & Exhibition Studies) Exhibition Practices class and answered by this year's graduating students of UIC's MFA program: How does art invite us to explore the encounter between embodied memory and larger historical, social, and institutional forces?
In a series of encounters, artists Derek A. Holland, Ramin Takloo-Bighash, Aishath Huda, Erin Palovik, and Teresita Carson explore the concept of "presence" in their respective work, and quite expansively: the presence of human bodies, social bodies, organic matter, and materialized histories. Holland and Takloo-Bighash call attention to how trauma—whether individualized or collective—throws representational modes of artistic expression into crisis, necessitating more experimental, abstracted techniques of rendering the body as an archival site of systemic, state-sanctioned violence. Huda and Palovik poetically navigate the transitory, fleeting nature of their respective mediums—water for the former and time for the latter. Both artists meditate on the productive challenges of documenting the two inherently fluid, dynamic, and performative mediums. Lastly, Carson's immersive, transmedial installation reckons with the shapeshifting, site-dependent nature of mythology and historical memory.
Join us for the first of our two upcoming MFA Thesis Shows featuring the work of our 2023 MFA cohort! A panel discussion from 5–6pm and closing reception from 5–8pm will be held on Friday, April 7.
Curated by Dr. Lucy Mensah of Museum and Exhibition Studies and the students in her Exhibition Practices class
Erin Palovick will be presenting a series of performances inside her thesis work called ACTION POTENTIAL at Gallery 400. Seating is limited. RSVP required.
https://www.eventbrite.com/e/action-potential-tickets-579576437727
Tuesday, March 28: 4pm
Wednesday, March 29: 4pm
Friday, March 31: 1pm
Saturday, April 1: 1pm
Thursday, April 6: 4pm
ACTION POTENTIAL is an audience for many performances, and a performance for many audiences. Transformation does not require forward movement. Like a feedback loop, like a living threshold, transformation is rooted in attunement— a system that serves itself, rather than an external goal. Bringing systems into an art space is practice in tuning ourselves to one another—the human and the more than human. Might someone who moves through the world in their listening stabilize them more abundantly in this world?
2023 UIC MFA Thesis Show 1: a series of encounters Bios
Teresita Carson (b. Mexico) is an idea-based artist working across disciplines, including moving image, new media, sound, sculpture, photography, printmedia, fiber, and installation. Taking an irreverent approach to world and counter-archive building, she explores the abstract intersection between the historical, the speculative, indigenous cosmogonies, and magical peripheries. Through weaving and its Indigenous histories, she activates the genre of science-fiction as a feminist strategy to mine for aspirational modalities. Her experimental films have been shown at film festivals and curated film exhibitions at the Museum of Contemporary Art of San Diego. Recent venues presenting Carson's work include Adds Donna Gallery, Mana Contemporary, Sullivan Galleries, Moving Image at ACRE, Spudnik Press Collective, Czong Institute for Contemporary Art (CICA Museum), Ugly Gallery, and Hyde Park Art Center. She is director of the project space INTERSECT, which exhibits and supports artists making time-based work. She holds a Bachelors in Fine Arts from the School of the Art institute of Chicago and resides in Chicago, Illinois in the land of the Three Fires Confederacy, Potawatomi, Odawa and Ojibwe Nations.
www.teresitacarsonvaldez.com IG: @dizzydentfilms
Derek Holland is a multimedia artist and researcher currently based in Chicago, IL with roots in Maryland and Philadelphia suburbs.  Their work focuses on communicating epistemologies along with the knowledge and criticisms of societal constructions, specifically Blackness, data and communal well-being. Derek has a background in public health research and earned a Bachelors of Science (B.S.) in Family Science from University of Maryland, College Park and a Master of Public Health (MPH) from Washington University in St. Louis where they supported publishing several peer reviewed articles while participating in group exhibitions and artist talks from St. Louis, MO and Chicago, IL to Philadelphia, PA. He is also currently an Access to Excellence fellow at UIC.
Aishath Huda investigates the shared experiences of consciousness, embodiment, and co-existence. She combines observed and imagined perspectives; compresses ecological processes; and concentrates material symbiosis, to find ways to transition from a human-centered worldview into a more expansive sense of we. She is currently working with and learning from water. From cells to molecules, in her work, water is at the center of all the entanglements. Huda is an artist from the Maldives. She holds a BFA from China Academy of Art, Hangzhou.
Erin Palovick (b. 1987) is an interdisciplinary artist from Atlanta, GA. Her practice is situated at the intersection of performance, installation, and research. She experiments with materials and immaterials as a way to learn and unlearn— complicating goals and listening out for a multitude of awarenesses. She makes work under the assumption that the art of listening— that which asks us to engage with possibility— is a gesture of leaning into uncertainty with the certainty that it will change us.
erinhammstudio.me IG: @erinpalovick_studio
Ramin Takloo-Bighash (b. 1974, Sarbandar, Iran) is a Chicago-based multi-disciplinary artist.  In his work, Ramin explores immigration, war, trauma, isolation, and imprisonment—experiences that are very personal to him. Ramin is an immigrant, and even though he has lived more than half of his life in the US there is a part of his that still feels like a person in exile. Recently he has found himself longing for his country of birth, and as a result he has been producing art that deals directly with political oppression, as well as immigration and its associated traumas. A basic question that Ramin grapples within his practice is: what happens to language in the face of trauma? And what is the meaning of sincerity in representations of trauma? Persian calligraphy, and its, often wordless, incarnations in painting and sculpture, forms the core of Ramin's artistic practice.  Other than calligraphy, painting, and sculpture, Ramin's practice also includes photography and film. His most recent film is "It happened down the street" which he made based on a visit to southern Iran in the summer of 2022.