Art & Art History
70 + 30 = 2000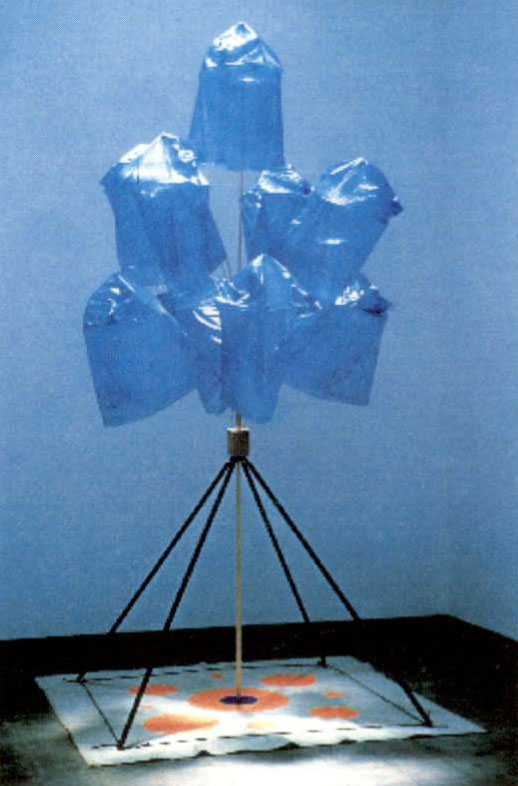 Monday, October 02, 2000–Saturday, October 28, 2000
Location:
Gallery 400
400 South Peoria Street, Chicago, IL 60607
70 + 30 = 2000 is an exhibition of works created by the artist B. Wurtz over a thirty-year period, as well as a new installation completed for Gallery 400. From his refreshingly vigorous body of work, Gallery 400 is exhibiting selected works from numerous series. Among the series shown, for example, is the Button Paintings Series, which includes unprimed canvases with circles and straight lines drawn with dry economy and strategically positioned buttons sewn onto the fabric. Conjuring the early Modernist pioneers who found intimations of spirituality in the archetypal elements of design, Wurtz transforms that high-minded tradition into a hobby-like craft, democratically blurring the line between the exalted and the ordinary. Also on exhibit are photographs illustrating the aggrandizement that underlies many photographic images. Wurtz took close-up shots of industrial debris and then exhibited the debris on a low pedestal below the photograph. When photographed, the objects look monumental, filling the frame or soaring against a clear sky, although close inspection of the images reveal the subjects to be junk rather than grand industrial architecture.
B. Wurtz 's mixed-media works defy categorization, but humor and a certain degree of whimsy are constant mainstays. Wurtz 's ingenious works are illustrative of the thought processes that lie at the core of art making. He removes commonplace objects, like shoestrings and plastic bags, from their ordinary settings and places them in an art context where they assume properties and characteristics that they had not previously possessed. At the heart of Wurtz 's work is a delight in the act of discovery, which is intrinsic to this process. His technique manages to extend possibilities inherent in our perception of these objectives while emphasizing the type of thinking involved in making art. One of Wurtz 's strategies is to produce aesthetically pleasing work that generates a thoughtful critique rather than an explicit or political affront.
Critics described his pieces as "magical" and "unpretentious," but Wurtz offered another interpretation: "It 's really about an interest in an ordinary object from daily life, especially one related to food, clothing, or shelter. Basic things, the kinds of things I use in my art, were invented by humans and I find that fascinating. The act of seeing the extraordinary in an ordinary object makes me feel connected to the universe in general and life in particular. I like the idea of pointing out how simple it can be to 'see ' this." Wurtz managed to place his works in a liminal space where the viewer is asked to consider the aesthetic potential of the found objects on display, therefore building upon and updating the practices of Marcel Duchamp.
Bill Wurtz was born and educated in California and currently lives and works in New York City. His work has been exhibited nationally and internationally, at such places as the Institute for Contemporary Art in Philadelphia, ANP in Belgium, W139 in Amsterdam, The Center for Contemporary Arts in Cincinnati, the Museum of Contemporary Art in Chicago, and the Centre Regional d 'Art Contemporain in France. In 1992 Wurtz co-created a publication with Raymond Pettibon entitled Farm 5 (Feature, Inc.).
The exhibition is accompanied by the publication of a 24-page color catalogue.
Related: