Design
2018–2019 Public Seminar Series: Stephanie and Bruce Tharp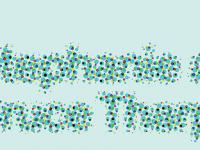 UIC School of Design 2018–2019 Public Seminar Series
Stephanie and Bruce Tharp
Stephanie and Bruce Tharp run the award-winning design studio Materious, which they established in 2005. They have exhibited their work internationally, licensed design for local and global companies, and self-produced commercial, experimental, and discursive products. Individually, they have worked with Haworth's design research think tank, Ford Motor Company, Massachusetts Institute of Technology, and Amazon.com, among others.
MIT Press recently published the Tharp's Discursive Design: Critical, Speculative, and Alternative Things, which explores how design can be used for good — prompting self-reflection, igniting the imagination, and affecting positive social change.
The Tharps are both Associate Professors in the Penny W. Stamps School of Art & Design at the University of Michigan. They were previously faculty — Bruce as Director of Graduate Studies, and Stephanie as Chair of Industrial Design — at UIC's School of Design. Stephanie has a BS in engineering from the University of Michigan and an MID in industrial design from RISD; Bruce has a BS in engineering from Bucknell, an MID in industrial design from Pratt, and a PhD in sociocultural anthropology from the University of Chicago.
The UIC School of Design public seminar series serves as a research platform for the school's MDES program, stimulating broad intellectual inquiry about the values guiding the designer by promoting discourse across industrial and graphic design.
Thursday, March 14
6:00–7:30 pm
Room 1100
Architecture and Design Studios
845 West Harrison Street, Chicago
This event is free and open to the public.
UIC School of Design 2018–19 public seminar series
This year's public seminar series explores the boundaries and overlaps between design and craft, investigating contemporary positions in design that incorporate craft as a form of critical design practice.
At a time when the reindustrialization of America is attracting growing interest, craftsmanship is making a counter-resurgence. Contemporary designers incorporate artisanal processes, materials, and the flaws of the handmade in their work, while museums are demonstrating a renewed interest in "feminine" subjects such as fiber and ceramics. Technology enables artisanal practices — 3D printing allows designers to make, customize, and repair on their own; and to serve as editor, publisher, and distributor.
While craft skills and processes have often been integral to industrial production, this revival may reflect a response to the negative consequences of modernization, globalization, and abusive labor conditions in the developing world, as it did for the Arts and Crafts movement and the early years of the Bauhaus. Or perhaps it provides an antidote to the pervasiveness of mechanistic production and the digital world, allowing space for disciplinary skill, obsessive focus, and what sociologist Richard Sennett calls "the special human condition of being engaged." Whether a form of cultural and economic resistance or an essential human value, craft's current prominence suggests a reevaluation of the importance of artisanal practices, and a renewed emphasis on the ethical value of doing a job well.