Theatre & Music
UIC Jazz Festival: Area schools learn from Chicago's best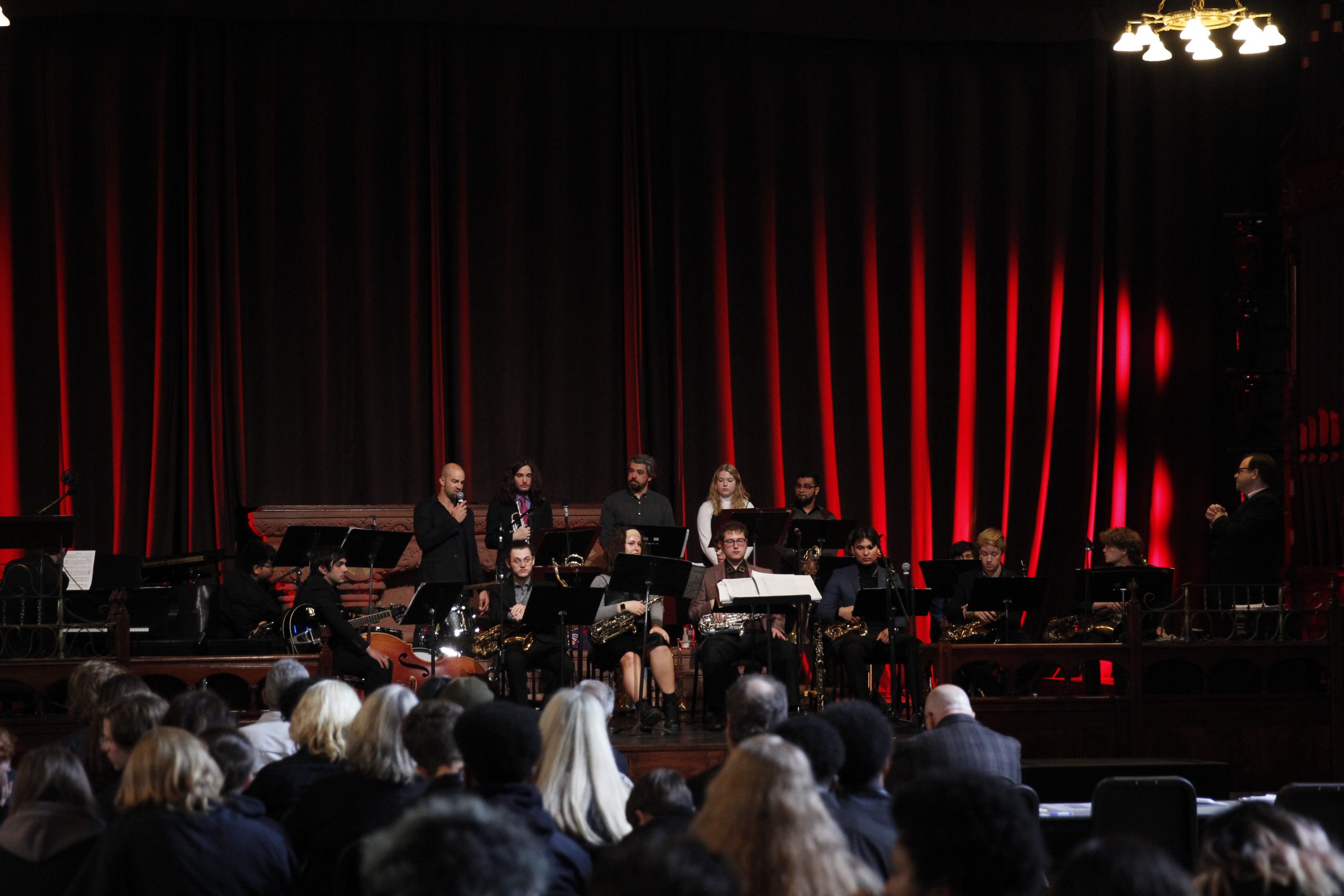 The annual University of Illinois Chicago (UIC) Jazz Festival has again brought the best in jazz music to audiences in Chicago. This year, seventeen high school bands representing the Chicagoland area participated at the UIC Jazz Festival on Thursday, April 20 at the Epiphany Center for the Arts with special guest artist, New York City based drummer Jared Schonig.
Michael Stryker, Director of UIC Jazz Studies was excited to meet and connect with students and high school band directors. "This is without a doubt a formative experience in a student's music career. We are bringing aspiring student artists to hear their peers, share music, and receive feedback from UIC Jazz faculty, and students get an opportunity to see jazz played at the highest level."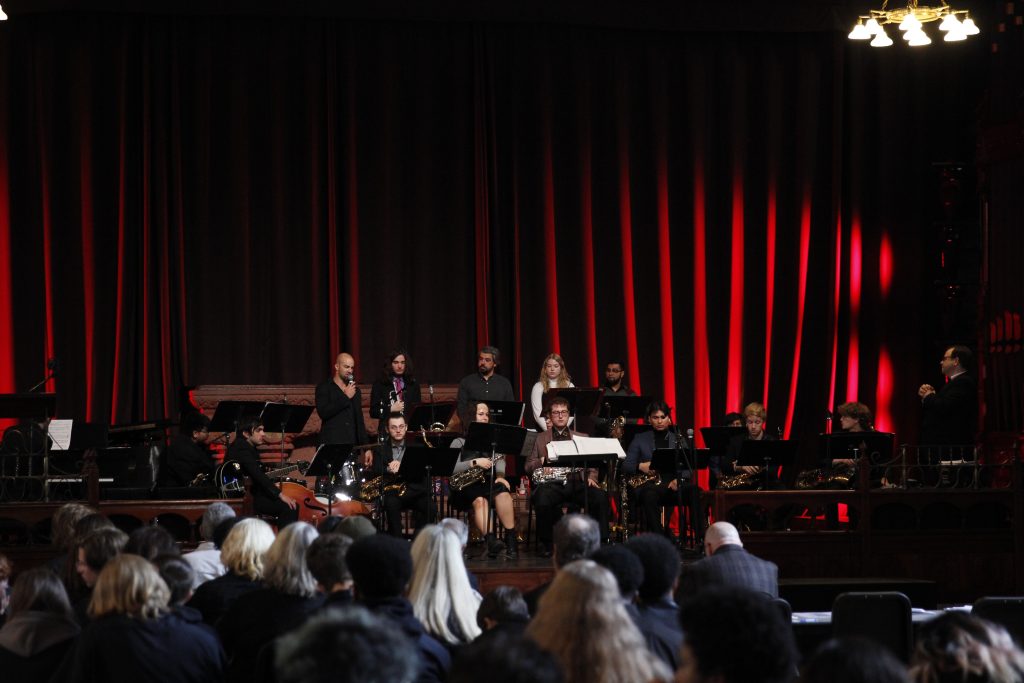 Clinicians were impressed by student performances. They evaluated performances on intonation, time, articulation, interpretation, style, presentation, and dynamics and gave constructive feedback to both students and ensemble directors.
"This is an opportunity to learn from some of the finest pros in the city. Students can build connections with peers who are passionate about playing jazz," said Anthony Bruno, Chair of the Music Department at Chicago High School for the Arts.
In the past five years, the UIC Jazz Festival has hosted world renowned guest artists including Mike Stern, Joel Frahm, Michael Dease, Dave Stryker, Kurt Elling, Jeremy Pelt and this year, Grammy award-winning Jared Schonig to teach and perform at the festival.
Brent Talbot, UIC Head of Music, was elated to learn that Jared Schonig would be this year's guest artist. "Jared and I go way back. I hired him nineteen years ago when I was the head of a music department at a school in Brooklyn, New York. I had seen him perform regularly in Rochester as a student at the Eastman School of Music. I remember how well his personality shined on stage. His open mouth-smile as he performs acrobatics on the drumkit—you can see him listening and being the cheerleader of the other performers on stage. Jared has brought that same energy to our students and faculty."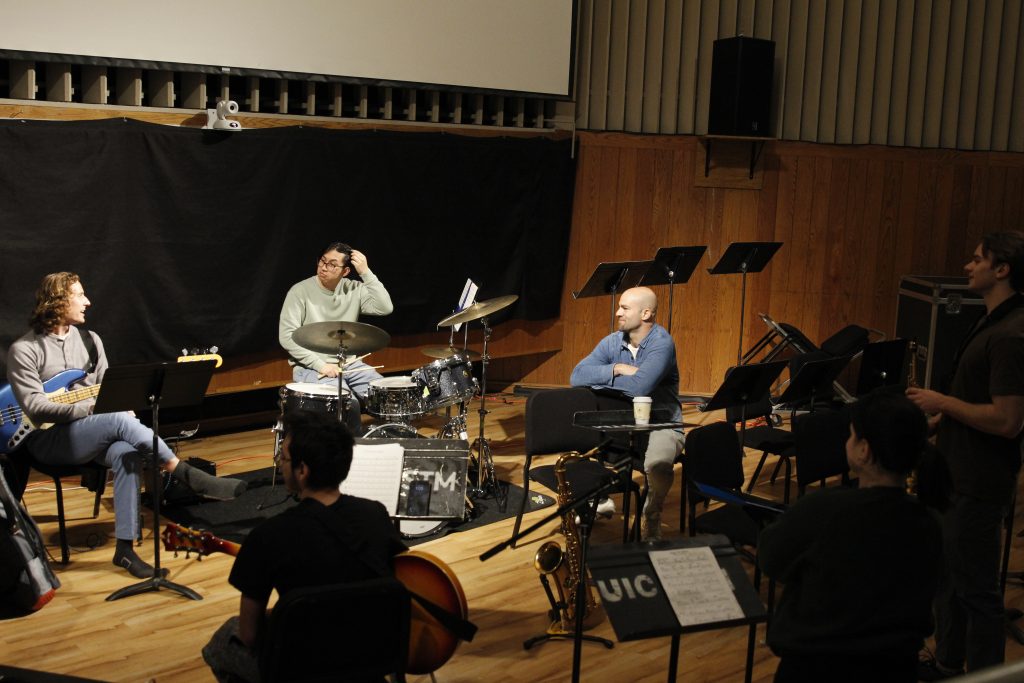 Prior to the UIC Jazz Festival, Schonig gave UIC students masterclasses and one-on-one rehearsals, advising them on the craft of playing the music. He also helped launch the festival with an evening concert at the Sanctuary space in Epiphany Center for the Arts featuring UIC Jazz Faculty, Andy Baker on trombone, Marques Carroll on trumpet, Jon Irabagon on saxophone, Larry Kohut on bass, and Michael Stryker on piano. Attendance was excellent and included students, faculty, and music lovers from the Chicago community.
Jon Irabagon, UIC Jazz saxophone faculty, was empowered by the performance with his colleagues. "I've known and played with everyone on that stage. We have an amazing faculty— many unique voices all situated in one school. It was wonderful to trade ideas. During our performance we were given license to take chances and be creative. It was consistent excellence."
Tommy Haepp, UIC BM Jazz Studies student, played in the afternoon UIC Jazz Ensemble concert directed by Andy Baker that featured Jared Schonig on drums. "It's always great when such a prolific and skilled musician comes to school and provides us insight. They push us to the highest standard possible because we want to match the energy that they bring. It was also great to see our professors play together on stage the night before. It really goes to show how fortunate we are to learn from these professors. When they all step on stage, they sound like they have been playing together for years. Truly inspiring."
Learn more about the UIC Jazz Studies program here.