Architecture
UIC alum awarded Golden Lion at Venice Biennale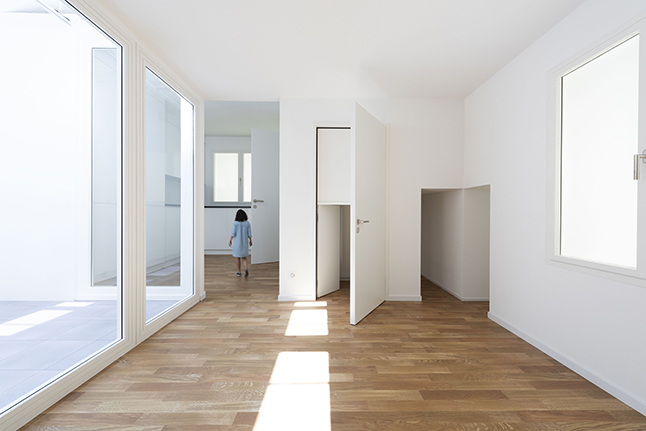 UIC alumnus Matthew van der Ploeg (MArch, 2011), along with Swiss Pavilion co-curators Alessandro Bosshard, Li Tavor, and Ani Vihervaara, received the Golden Lion for Best National Participation at the 16th Venice Architecture Biennale this May. Their project, titled Svizzera 240, explores the conditions and potentials of the conventional, unfurnished interiors of new-construction housing.
From the press release:
"A house tour offers a meandering, eye-level view onto the apartment interior. This view consolidates into a series of images, which register the apartment according to the qualities and affects afforded by its quintessential architectural palette: a ±240 centimetre volume dressed with white walls, skirting board, wood or tile flooring and off-the-shelf components and fittings.
"Visitors to the Biennale Architettura are invited to come into the Swiss Pavilion and take a house tour of the ubiquitous apartment interior. What is built within the Swiss Pavilion is not a «house» but a house tour: interior scenes are constructed at a range of different scales and spliced together, creating a labyrinthine sequence of interior perspectives.
"The installation reverses the standard format of the architectural exhibition. Instead of representing building (or using representation in order to build), the architects build representation. The construction of the installation adheres more to the principles of the image of an apartment than those of an actual apartment. The image's inability to convey scale, dimension, depth or spatial adjacency is presented to the viewer in built form. You enter an impossible dwelling. On this tour, you are no longer an apartment dweller, builder or buyer —nor are you an academic or even an architect— you become an entirely new architectural subject, a house tourist."
Read the full press release here. The exhibition remains on view through November 25.