Theatre & Music
Guitar Saved My Life, An Tran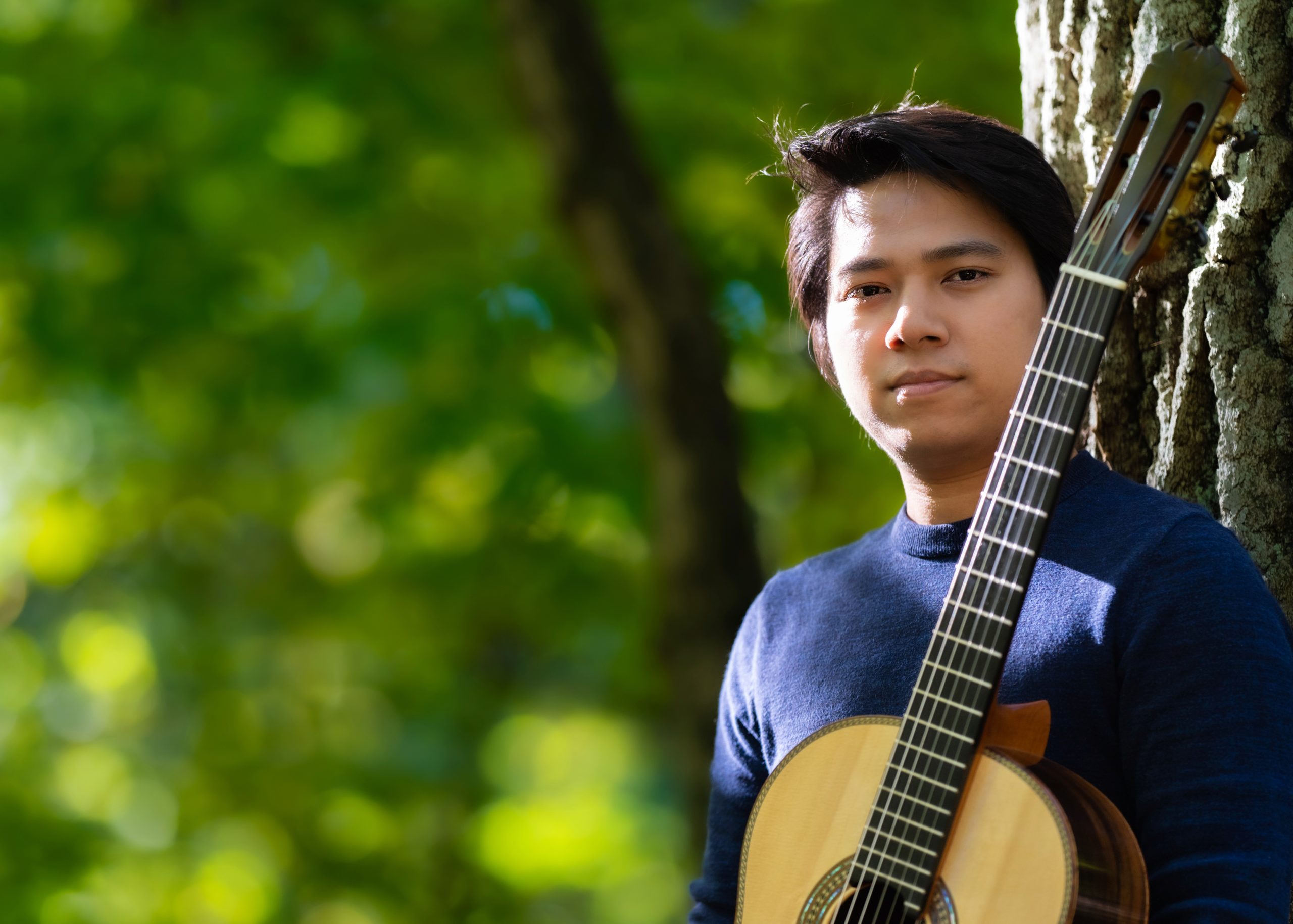 An Tran, guitar music faculty, kicked off the UIC Spring 2023 Music Convocation series with a discussion and performance of traditional Vietnamese music arranged for the classical guitar.
In conversation with Dr. Brent Talbot, Tran shared stories about his music and career experience as a guitarist.
Tran said he had trouble acclimating to his studies in grade school.
"I was not good in school; things just didn't stick…"
To his parents' worry, they sought every option and extracurricular activity for his academic improvement. But nothing seemed to work.
One day, inspired by his cousin's guitar playing, Tran picked up his dad's guitar and began to play. Almost naturally, his fingers would slide and move quickly through the frets, using five finger picking techniques. He was making music as if he'd been playing for years. Tran had found his calling.
During convocation Tran played several songs from his latest album Stay, My Beloved, a seven-track solo album with Vietnamese folksongs – and new music composed by Nguyen The-An and Dang Ngoc Long.
"My debut album is music that is close to me. It is composed of traditional Vietnamese songs my parents would sing to me."
Stay, My Beloved, was included in the 2020 "Recordings of the Year" by Chicago Tribune and was praised by Classical Guitar Magazine.
One convocation student askedTran, "I am not a guitar player, but how do I get started?"
Tran answered, "If you want to learn how to play the guitar, you first have to have an interest for it."
Tran developed not only an interest, but a love for guitar at seven years old. By the age of twelve, Tran was winning national competitions in Vietnam. By the time he was fifteen years old, his parents bet on his talent and bought him a one way to ticket to a boarding school in Nebraska to continue his music education.
Alone in a new world, Tran did everything possible to survive with only his guitar.
"The guitar saved my life. I relied on it to get through tough times, especially when I felt alone."
Today, Tran has been labeled a "guitar music virtuoso" by renowned guitar journals throughout the globe and has won numerous guitar competitions including 1st Prize at the 2018 New Orleans International Guitar Competition and the 2018 University of Rhode Island Rising Stars Competition.
His advice to students: "I've learned that talent is only a small part of my success, even greater was surrounding myself with people who believed in me and encouraged me."
Learn more about An Tran here.