Theatre & Music
Faculty Release New Music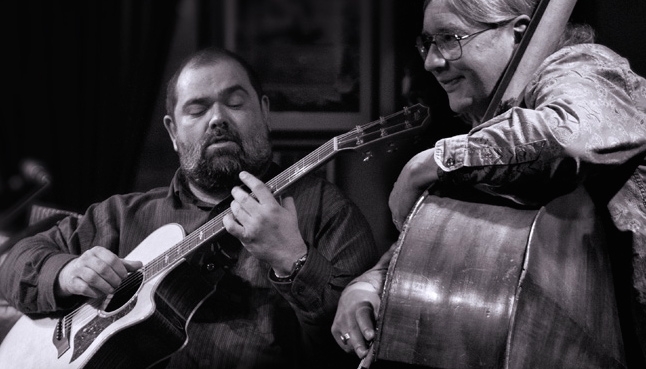 If you're on the hunt for some new music, check out recent releases by faculty at the School of Theatre and Music:
Volcano Radar
:
Electro Parables/Electro Parábolas
(Pan y Rosas Discos, Feb 2016) Elbio Barilari (electric guitar, electric viola, soprano sax and cornet) and Julia Miller (synthesized guitar and electric guitar) released their first studio album, a series of extended improvisations.
Zvonimir Tot
and Kelly Sill:
Standards Live at the Jazz Showcase
(Groove Art Records, March 2016) Faculty guitarist Zvonimir Tot and bassist Kelly Sill recorded this live album at Chicago's oldest jazz venue.
New Standard Jazz Orchestra:
Waltz About Nothing
(April 2016) Andy Baker co-founded the NSOJ with Chicago saxophonist Ken Partyka. This album is the group's debut recording. BONUS
Chicago Arts Orchestra:
Al Combate: Rediscovered Galant Music from Eighteenth Century Mexico
(Navona Records, 2013) Under the direction of Javier Jose Mendoza, the Chicago Arts Orchestra recently announced a new exclusive recording agreement with
PARMA Recordings
. They'll release a call for scores soon for their next project, but in the meantime, check out CAO's 2013 release, heralded for its "lively musical invention ... performed with style" by the
Chicago Tribune
.