Design
Daria Tsoupikova and Collaborators Awarded Presidential Grant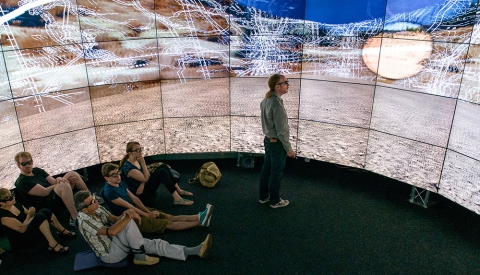 Daria Tsoupikova, an Associate Professor at the UIC School of Design and an affiliated faculty member of the UIC Electronic Visualization Laboratory (EVL) received a $150,000 grant from the University of Illinois (UI) System's Presidential Initiative to Celebrate the Impact of the Arts and the Humanities. Tsoupikova's "Transforming Storytelling: Multi-User Virtual Reality Theater for Collaborative Tele-Immersive Exploration" is a collaboration with EVL Director of Research and CS associate professor Andrew Johnson, CS/EVL Senior Research Programmer Lance Long, CS/EVL PhD student Arthur Nishimoto, and Chicago-based theater director Jo Cattell, who recently received the Goodman Theatre's 2018 Michael Maggio Directing Fellowship. They partner with the Goodman Theatre's Alice Rapoport Center for Education and Engagement, whose youth program works with Chicago's diverse demographics of middle-grade and teenage kids (ages 11–18).
"Transforming Storytelling" will demonstrate how virtual-reality technology can be both an artistic medium to further immerse participants in live theater experiences and a storytelling medium. Project collaborators will develop multi-user theatrical performances that merge real and virtual worlds with the goal of encouraging stronger theater engagement with tech-savvy younger audiences. Chicago youth will attend performances at the Goodman Theatre and at UIC/EVL's CAVE2™, allowing for immersive participation in the plot lines through avatars, hand-held devices and 3D platforms.
While non-profit theater groups have great interest in incorporating new technologies in live performances, they don't necessarily have the financial support to do so. UIC's collaboration with the Goodman Theatre can demonstrate that live performance combined with virtual reality is a viable option for immersive theater.
The UI System's Presidential Initiative selected 14 faculty projects from 53 proposals, which will share nearly $2-Million in funding over the next two years. Tsoupikova's grant represents CADA's contribution to the first Presidential Initiative to Celebrate the Impact of the Arts and the Humanities.
For additional information see the January 24 feature in the University of Illinois System News.